Two jumbos drown in causeway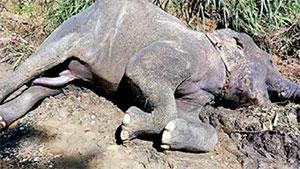 Source:Dailymirror
KUDA OYA (Daily MIrror) – Two wild elephants that fell into the Kirindi Oya and drifted away by floods had jammed in a causeway and drowned. The carcasses were recovered yesterday by the villagers in Thululla in Kudaoya.
Wildlife conservators, who rushed to the scene on information of the residents of the area, lifted the carcasses onto the bank with a backhoe.
They said one of the jumbos was six feet tall and about 30 years of age and the other six feet tall and about 25 years of age.
Residents of the area said the causeway had been built across the river by a businessman to reach a sand mining site and a quarry.
Surgeon of the Wildlife Department Dr. Ananda Dharmakirthi, Wellawaya Ranage Conservator Nishantha Premalal and OIC Kudaoya Police CI S.T.M. Rioyaz are conducting investigations.