Lore on Thaniwella Devalaya-

by S.K. Tissera, Chilaw Group corr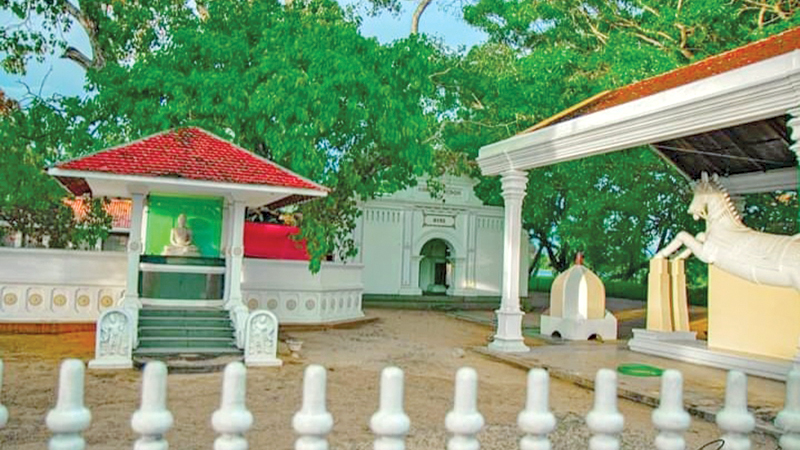 Source:Sundayobserver
It has been a long-standing tradition in Sri Lanka that folk heroes who have rendered an exceptional service for the country or who have acted altruistically for the wellbeing and protection of the community are deified after their death. There are many examples for this type of posthumous deification of great characters in the country.
When we travel about 68 km towards Chilaw from Colombo on the Colombo – Chilaw main road, we can see a devalaya (A shrine consecrated to a god) on the right hand side of the main road close to the Tinipitiya Lake in Madampe. It is not so difficult to recognise this holy place as there is a large white horse statue set up in front of the temple by the Kadupitiya Oya. Madampe has been referred to as Katupiti Madampe in the ancient chronicle of Rajavali.
Thaniwella Devalaya has been dedicated to a local deity known as "Thaniwelle Bandara Deviyo". In addition to this main temple, several small temples as places of worship of god Thaniwella have also been built in Kudawewa, Mahawewa, Pookulama, Mallawagara, Galamuna and Galmuruwa. Whoever travels past the main temple never forgets to get off and drop a coin to the donation box as an offering.
The question that arises now is who this Thaniwella deviyo is. He was a popular, local ruler during the Kotte kingdom who was known as Prince Thaniyawallabha, a son of King Weeraparakramabhahu VIII also known as Ambulagala Kumara, who was the king of Kotte in the 15th century (1484 – 1518). He begot five sons by two wives (Two Keerawalle Princesses) who were sisters. They were King Dharma Parakramabahu IX, King Vijayabhahu VII, King Sri Rajasinghe, King Sakalakalawallabha, King Thaniyawallabha. It was the second queen who gave birth to Sakalakalawallabha and Thaniyawallabha.
Regional Kings
As the sons grew older, the king divided his kingdom into five regions and allowed them to rule those areas as regional kings. It was then that Prince Thaniyawallabha was entrusted with the task of ruling the Madampe region.
During the period of the Kotte kingdom, Chilaw was famous for pearls, ivory and rice and therefore, used to be a centre of trade thereof. Because of this, the King of Kotte wanted Thaniyawallabha to protect this area. It was during this period that Kadirana, who came to Sri Lanka from Kayalapattana in India, had started looting pearls in Chilaw and capturing and selling elephants.
According to the chronicle Rajavali, on the advice of king Dharmaparakramabhahu, the looter Kadirana was killed by King Thaniyawallabha along with his brother king Sakalakalawallabha, who ruled Udugampola. It is said that king Thaniyawallabha usually rode on a white horse.
King Thaniyawallabha had a beautiful princess as his queen. When he was away in the battlefield, his chief courtier became infatuated with her and tried to seduce her by saying that the King had died in the battle against Kadirana. He couldn't succeed as the queen, having been told this fabricated story about the king's death, committed suicide by jumping into the Tinipitiya Lake close to the Thaniwella Devalaya in Madampe.
While he was on his way back from the battlefield, he found out about his chief courtier's action and ordered his son to treasure the wealth he had and protect it. Having got to know that his wife had taken her life because of the chief courtier's diabolical lie, the King killed the chief courtier. It is said that the King also decapitated his son since he had destroyed his wealth instead of protecting it. Greatly shocked by these events, king Thaniyawallabha set his sword on the ground of the Tinipitiya Lake and jumped on it and committed suicide. That may be presumably thought of as the reason why this place has now come into being as 'Kadu Piti Madampe'.
Statue of a white horse
In front of the Devalaya is a statue of a white horse, jumping stance facing the entryway to the main shrine. The story behind this construction is also interesting.
There lived a wealthy person in the vicinity of this temple, who used to ride past this place every day in his chariot with no respect at all. One day he was, as always, riding in his chariot past this place of worship and all of a sudden, the horses pulled the chariot and jumped into the nearby lake breaking one of his legs.
His leg injury turned from bad to worse and did never seem to heal. One day he was told in a dream by someone that if he were to rid himself of this festering wound, he would make a vow to build a horse statue in the devala precincts.
Accordingly, he kept his promise and built a horse statue in front of the shrine, which exists to this day. Then his leg injury also healed.
Several years after the demise of King Thaniyawallabha, the people in Madampe had to face a lot of difficulties and dangers because of epidemics and an acute shortage of food and other essential goods. In the face of this adversity, the people who used to consider Thaniyawallabha as a deity worshipped him asking him to protect them from dangers. Thus, the devalaya was built between 1845 and 1850.
This ancient devalaya, which is held aloft as a sacred place of miracles, majestically stands now on the right bank of the Tinipitiya Lake with people from different faiths worshipping god Thaniyawallabha every day.