Significance of Isurumuniya Raja Maha Vihara-

by M.A.R.Manukulasooriya Hiriyala group corr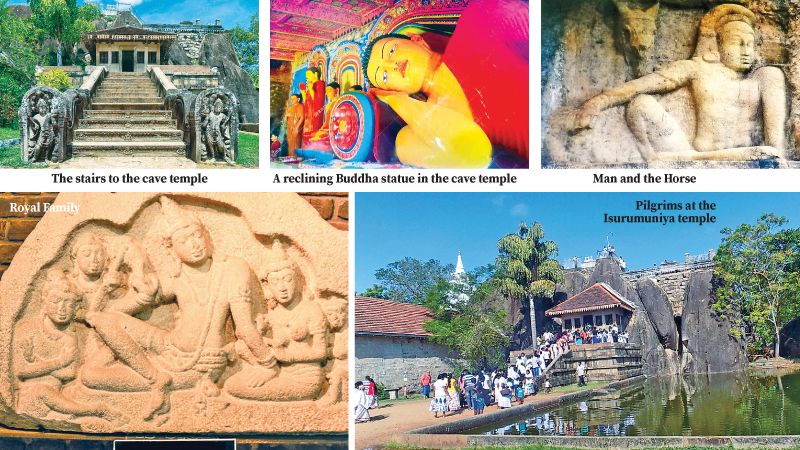 Source:Sundayobserver
The Isurumuniya Raja Maha Vihara close to the Thisawewa in Anuradhapura, is renowned for its rock carvings, of which the most famous is Isurumuniya Lovers. The other carvings are Horse and the Man, the Royal Family and the Elephant Pond.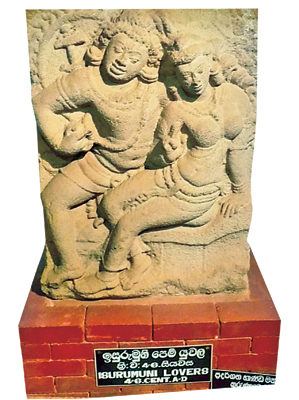 During his reign, 500 children were ordained at Isurumuniya and the temple was built as a monastic complex to house them. It was renovated by King Kasyapa (473 -491A.D.) who renamed it Boupulvan Kasupgiri Radmaha Vehera, a combination of his name along with those of his two daughters. Connected to the temple is a cave with a cliff above it. A small Dagaba was built on the cliff during a later period.
At the picturesque entrance to Isurumuniya, there is a rock on either side of a crevice and the rock seems to rise out of a pond.
Isurumuniya Lovers is a Gupta style carving of the 6th century, which sparked many legends over the centuries. It shows a woman seated on a man's lap. Some believe that the couple depicted in the carving are Prince Saliya and Princess Asokamala. It is also believed that the Hindu God Shiva and Goddess Parvathie are depicted in the carving.
Another unique rock carving is found at the top of the cliff. It depicts a man seated in a regal position with the head of a horse behind him. Several archaeologists including Dr. Senarath Paranavithana had stated that this carving could be believed as that of Parjanya, the God of rain. According to Dr. Paranavithana, the carving called the "Royal Family" depicts a king and a queen. Today, Isurumuniya has become a popular place among local and foreign tourists because of its unique rock carvings and picturesque environment.